Blushingskin® Mist Sprayer
The most stylish Nano Blushingskin® Mist sprayer with Super Nano cluster
This Blushingskin® Mist Sprayer releases a soothing mist, penetrating deeply into the users skin, moisturizing it and vitalizing the skin with its large water tank. It can moisture your skin without smudging makeup. The new and improved design makes the Mist Sprayer to look modern and sleek.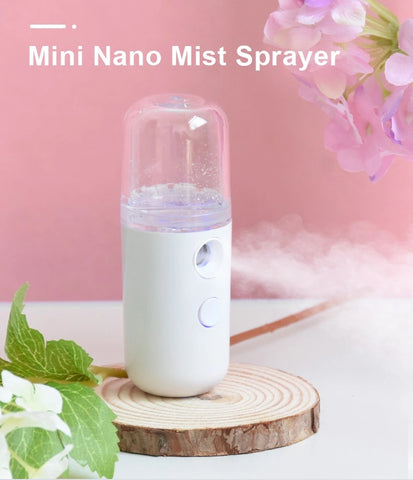 All new and improved
Say hello to the new design of the Misty! This special Blushingskin® mist sprayer comes packed with a bigger water tank and a modernized design. Moisturize your skin in style, with the Misty.
Make your skin glow!
By using the Misty anywhere, anytime, you can moisturize your skin in a moments notice! Just fill the 30ml tank up with water, turn it on and enjoy the lovely breeze of the mist spraying on your skin, making it healthier and glow!
How does it work?
The strong mist that comes from the Misty penetrates deeply into your skin, moisturizing it and giving it a healthy new coat that promotes the healing of skin cells and improves your face.
Features:
Moisturize and Refresh your Skin: This small Mist Sprayer is used for care of face, body, hair and other position. Suitable for all kinds of skin.Perfect for keeping your face hydrated and healthy
Simple to use, Pocket size. Just filled it up with water, push down the switch, and then it automatically sends out a nice mist.
The handy steamer is mini size, you can put it in your handbag, purse, schoolbag and even pockets and use it anytime though for a quick little hydration boost of your skin
20ml-large water tank. A box of water can be used more than 8 times with large amount of mist. Charge once, can spray about 50 times.
This spray machine can be refilled and recharge, comes with a portable USB cable.
Specification:
Item Type: Nano Water Spray
Material: ABS
Color: As Pictures Show (May Vary slightly)
Item Size: Approx. 10 x 3.7cm / 3.9 x 1.5in
Package Size: Approx. 15.5 x 3.5 x 3.5cm / 3.9 x 1.4 x 1.4in
Package Weight: Approx. 61g

Package List:
1 x Nano Sprayer
1 x USB Cable